Quran Ki Fikri Rahnumai Course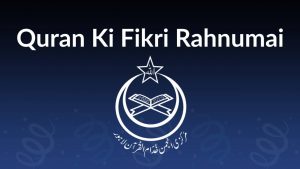 (1) Introduce students to the comprehensive and universal concept of religion through an integrated study of the Qur'an.
(2) Introducing the participants to the curriculum by introducing them to the intellectual basis and basic practical instructions of the Qur'an al-Hakim.
(3) To enable curriculum participants to respond appropriately to criticism of Islam in private forums and to protect the audience from being influenced by critics.
(4) To awaken the spirit of acquiring Quranic knowledge in the curriculum participants.
Course Syllabus
Six books and 44 cassettes / one guide in this course CD included.
Educational Ability
To benefit from this course, the student needs academic ability up to FA level.
Course Procedure
Students who have books and cassettes/books want to do the course through CD. They are sent two booklets at the beginning. They are checked and sent when the solved papers are received. At the same time, the course material for the next two lessons is sent. Moves forward gradually.
Course Cost and Fees
(1) Through books and cassettes: The fee of Rs. 850 / – will be charged in two equal installments. The first installment on admission and the second installment after Lesson 13.
(ii) Through books and CDs: Students with computer facilities instead of 44 cassettes you can also take courses through CDs. In this case, the course fee will be Rs. 450 / – which will be paid at one time.
Certificate of Course
At least 40% of marks will be required for the student to answer each lesson. A certificate, of course, will be given to the students who get at least 50% marks in all the lessons.
Admission Form for Quran Ki Fikri Rahnumai Course
I would like to enroll in the correspondence course of the "Quran Ki Fikri Rahnumai Course". Therefore, as the first/final installment of the course fee, I am sending the amount of Rs. Through the draft/money order issued in favor of Central Anjuman Khudam-ul-Quran Lahore. My data is as follows.
Correspondence Courses for Foreign Countries
All three correspondence courses have also been organized in foreign countries. These courses have been launched in Saudi Arabia, Abu Dhabi, Dubai, Sharjah, England, France, Australia, and the United States.
The fee for the Qur'anic Thought and Practical Guidance Course for Foreign Countries will be as follows:
| Nature | For America/Canada/Australia | For Europe/Asia/Africa |
| --- | --- | --- |
| With books and cassettes | 3500 | 3000 |
| With books and CDs | 1600 | 1100 |
| Without books and cassettes, CDs | 1400 | 900 |
Note: Course material cannot be sent to Saudi Arabia and UAE due to the malfunction of the postal system. Participants will receive course material themselves or through someone else. The institution will only send questionnaires.
Arabic Grammar Course (Part I, II, III)
The Easy Arabic Grammar course consists of three parts. The fee for each part for foreign countries is as follows :
For america/Canada/Australia=Rs 900.
For Europe/Asia/Africa=Rs 600.
Terjuma Tul Quran Course
The fees for this course for foreign countries are as follows :
For America/Canada/Australia=Rs 900.
For Europe/Asia/Africa=Rs 600.
Note: Overseas Students Send Fees in Pakistani Rupees in the form of a draft to any branch of any bank in Lahore.
All three courses can be taken at the same time and one by one. A certificate is also sent upon completion of each course. There is no time limit for these courses. You can easily get admission whenever you want and you can solve and send the questionnaire whenever you want.
For Contact 
Director of Correspondence Courses
Quran Academy '36-K' Model Town Lahore  54700
Phone No: +92-42-5869501-3
Fax: 5834000
E-mail: distancelearning@khuddamulquran.org
Website: www.khuddamulquran.org
Ways to send fees for admission to courses
Correspondence courses and online course fees can be sent in any of the following ways.
(i)By money order (ii) By postage stamp
Money order / Stamps (by registered post) Inchar Department of Correspondence Courses, Quran Academy Send 36-K to Model Town Lahore.
With Easy Money: Muhammad Kashif s / o Muhammad Farooq                     
Account No. 0348 4618767
Through  Online:
A / c Title: Ashraf Baig
A / c No: 0096701010018843
Bank Name: MCB, Lahore
Bank Code: 0967
IBAN A / C No. PK85MUCB0096701010018843
Note: It is not necessary to obtain a prospectus for admission in any course other than an online course but the name of the course along with the following data can be sent by letter or e-mail to get admission to the required course.
Name
Name of father/daughter of / wife
Date of birth
Education
Postal address
Mobile/phone number
Profession
Note: Students Abroad Only online courses are offered for female students. The fee for this course abroad is Rs. 1200.